echo "custom header code goes in here"; ?>
PCB kit version of RS-144 dual call button panel
RS-142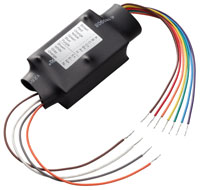 The RS-142 is the circuit board version of the popular RS-144 call panel substation for installation into custom designed switch enclosures. It features the same dual button call panel station functionality and is designed to be used with the N-8000RS or N-8010RS substation interfaces. It provides Emergency and Normal button operation that can be individually programmed to report to any master station based on job specification. It requires 3-conductor shielded twisted pair (STP) wiring and mounts in a standard US single gang flush or wall mount box. The optional RS-141 handset can be connected to the call panel station for private calling.


Product Features
Allows configuration with custom housing and switch.
May be programmed for dual-priority call or call into two different master stations.
Connects to N-8000RS & N-8010RS exchanges via shielded twisted pair wire and 25V speaker for half-duplex communication with assigned master station.
Optional RS-141 handset may also be used.
More Information
Click on a checkbox to add to batch download.
Manuals
CAD & Specifications
Images
Additional Information