echo "custom header code goes in here"; ?>
Gooseneck Podium Microphone
EM-800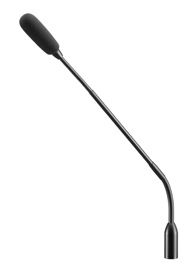 TOA's EM-Series Presentation Microphones are designed for superb sound quality and reliability and represent a new TOA standard of microphone performance. They are stylishly designed and compact and feature extended high-frequency response to enhance clarity and high resistance to ambient noise, which provides exemplary speech reproduction. The new TOA microphones comprise the EM-800 Gooseneck mic, for mounting either directly into a table or podium receptacle, or may be used anywhere when inserted into the optional ST-800 Desk Stand. The EM-700 Boundary mic is a low-profile, hemispherical pickup pattern which provides consistent even pickup in-front and rejects un-wanted sound from the back. Lastly, the EM-600 Flush Mount Boundary mic may be inconspicuously installed into a wall, ceiling or table and offers an omni-directional pickup, making it ideal for wide areas in conferencing and surveillance applications.



Product Features
Ideal for such speech applications as meetings, lectures and religious services.
Electret condenser microphone element with cardioid pattern for focused pickup.
Excellent high-frequency response of 60 Hz - 20 kHz delivers clear output even through a PA system.
High sensitivity (-35dB) provides a satisfying tonal response.
Gooseneck with two adjustment points allows more flexible microphone positioning angles.
Rejection of undesirable off-axis sound minimizes possible feedback.
Male XLR-3-12 connector equivalent
Phantom power range of 9 to 52 volts enhances operational versatility.
More Information
Click on a checkbox to add to batch download.
Manuals
CAD & Specifications
Images
Additional Information