echo "custom header code goes in here"; ?>
Standard Master Station
N-8010MS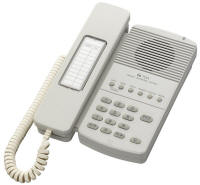 The N-8010MS is a standard master station (no LCD display) that connects to an N-8000EX or N-8010EX intercom exchange by a single twisted pair wire. It is capable of full duplex hands-free or handset communication with other full duplex stations. The N-8010MS master station may be wall or desk mounted.



Product Features
Full-Duplex (aka: Duplex) communication is supported by this station
Two-wire connection to N-8000EX or N-8010EX Exchange
Handset or hands-free duplex communication
Optional wall-mount bracket, model YC-280
More Information
Click on a checkbox to add to batch download.
Manuals
CAD & Specifications
Images
Application Guides
Additional Information