echo "custom header code goes in here"; ?>
Q-N8050WP Outdoor Substation
Q-N8050WP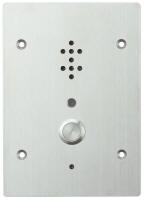 The Q-N8050WP is a weather resistant door station designed to connect to an N-8000EX or N-8010EX intercom exchange. It provides high quality, hands-free conversation with a master station on an N-8000 system. The Q-N8050WP is IP54 rated with additional protection for the PCB It includes a remote controllable open collector control output (momentary 1-9 seconds). The Q-N8050WP supports the audio trigger function. Requires 3-gang back box.


Product Features
Half-Duplex (aka: Duplex) communication is supported by this station
Two-wire connection to N-8000EX or N-8010EX Exchange
Hands-free duplex communication
Separate mic and speaker
Control output (open collector)
IP54 rated
Optional flush-mount back-box, model YC-150
Optional surface-mount back-box, model YS-13A
Also available as PCB assy., model N-8050SB
More Information
Click on a checkbox to add to batch download.
Manuals
CAD & Specifications
Images
Additional Information