echo "custom header code goes in here"; ?>
Conference System
TS-800 and 910 Series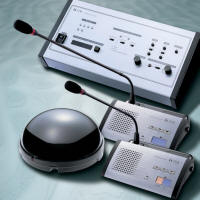 The TS Series Infrared Conference Systems is ideal for conferences and meetings in corporate, educational and hotel applications. The system provides secure wireless communications for conferences and boardrooms and the cordless operation removes all cables from view. The easy to use TS Series is comprised of the deluxe TS-910 system featuring up to 96 chairperson/delegate stations, three level voting and simultaneous translation audio channel. The economy TS-800 system supports up to 64 chairperson/delegate stations. All stations are powered with a rechargeable lithium-ion battery or AC power supply. The TS Series infrared conference systems are backed with a five year product warranty.
Product Features
TS-800 Infrared Conference System: External Control Communication Specifications
TS-910 Conference System: External Control Communication Specifications
Cookbook / Application Guide
Secure, wireless infrared communication assures freedom from eavesdropping and interference
No cables on the conference table!
Easy to set up and operate
Up to 96 Chairperson/Delegate stations each powered with rechargeable lithium-ion battery (ten hour operation) or AC power supply
Convenient voting function (Yes, No, Abstain) (TS-910)
Simultaneous translation channel (TS-910)
External source inputs and PA/record outputs
Five year warranty
More Information
Click on a checkbox to add to batch download.
CAD & Specifications
Additional Information