echo "custom header code goes in here"; ?>
Digital Ambient Noise Controller
DP-L2 CU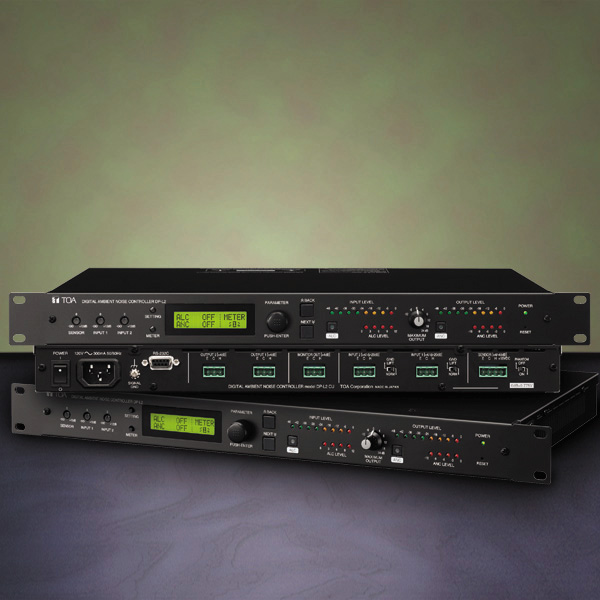 The TOA DP-L2 Digital Ambient Noise Controller is a rack-mountable digital audio processor that automatically adjusts output volume in response to changing ambient noise levels. Typical applications include airports, shopping malls and restaurants.

Conventional ambient noise controllers simply add the output to the ambient noise, making manual compensation adjustments necessary. The DP-L2 features a superior automatic level control (ALC) algorithm that automatically adjusts the input signal to maintain a level suitable for the surrounding ambient noise level, ensuring an appropriate input signal level at all times.

The DP-L2 has two balanced Line Inputs and Outputs, one Ambient Noise Sensor Microphone Input and one Monitor Output . A range of microphones may be used for detecting ambient noise, including ceiling flush-mounted, dynamic and condenser types. Front panel LCD and controls allow easy adjustment of all functions with input, output, ALC and ANC level metering. A key-lock protect function prevents accidental changes in front-panel settings.

The DP-L2 is backed with TOA's five year product warranty.





Product Features
Digital ambient noise control (ANC) function with 4-LED metering automatically adjusts output gain to match changes in ambient noise levels.
Exclusive TOA algorithm distinguishes unit output sound level from ambient noise levels, for more accurate control.
Monitor output for sound picked up by the ambient noise sensor microphone.
Automatic level control feature with 4-LED metering maintains input signal at a constant level by adjusting input signals to appropriate levels when the sound level is too low.
Sound volume is controlled without losing nuances of speech or compromising background music sound quality. This prevents unnatural sound effects that often results when using conventional Automatic Gain Control (AGC) or compressor.
Maximum Output function acts as a limiter.
Sensor input reference level fine adjustment function.
Sensor input phantom power.
8-LED input and output level metering.
Auto input sensitivity setting and sensor input reference level measurement function.
Front panel LCD screen, keys and knobs ensuring easy access to all settings.
Built-in key lock function prevents unauthorized adjustment.
Standard 1U-size (44.5mm/19-inch) with rack-mount hardware included.
Five year warranty
More Information
Click on a checkbox to add to batch download.
Manuals
CAD & Specifications
Images
Videos
Application Guides
Additional Information