echo "custom header code goes in here"; ?>
EASE Focus Software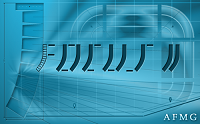 EASE Focus is a software that allows the modeling of acoustic sources, in particular line arrays, in two dimensions. It considers the direct field created by the complex addition of the sound contributions of the individual loudspeakers or array elements. Based on an intuitive and consistent interface, the design of EASE Focus is targeted at the end user, but also at the R&D engineer.
Product Features
Aiming and color mapping display:
Zoomed rigging display
Extended report for printing
Levels over audience areas
COM and tilt angle calculation for multiple selected pinpoint
Presets for audience areas and array setup

English and German language version

Acoustic calculation:
SPL in 1/3rd octave, octave, 3 octaves, broadband
RMS, program and peak levels
Flat and A-weighted levels
Air attenuation according to ISO 9613
Complex modeling of cabinets with multiple sources per cabinet
Amplitude shading
Optimized SPL calculation routines for interactive aiming
More Information
Click on a checkbox to add to batch download.
Additional Information