echo "custom header code goes in here"; ?>
Paging Mic
Q-RM9012PS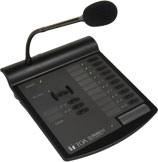 The Q-SS9012PS Multi-Zone Speaker Selector has 2 amplifier inputs and 12 individual relay switches to select the amplifier connected to each 12 speaker line/zone. This allows up to 12 zones for paging and BGM distribution with a dual channel amplifier or simple paging system with only a one channel amplifier. TOA's new concept offers a real cost effective multi-zone paging system.
Features


Simple, low-cost solution for multi-zone paging with minimal equipment
Works with 9000M2 GUI software v2.0
Speaker selector: Q-SS9012PS
New 9000M2 Software:
In Paging Matrix-New Paging sync function allows up to 12 synchronized contact-outputs along with each page event
Each sync point controls an independent C-OUT connection, which in turn activates the independent speaker outputs on the Q-SS9012PS
AD-246 24VDC Power Supply included with each unit
High-sensitivity electret-condenser gooseneck mic for clear voice
12 zone select buttons, All Call, Clear
12 Contact Outs corresponding to buttons (RJ-45 connector for use with shielded Cat5 wiring)
Connects to C-IN on 9000M2 (mainframe & equipped with C-001T)
More Information
Click on a checkbox to add to batch download.
Manuals
CAD & Specifications
Images
Other Information
Additional Information