echo "custom header code goes in here"; ?>
5000 series Wireless Tuner Module
WTU-M9800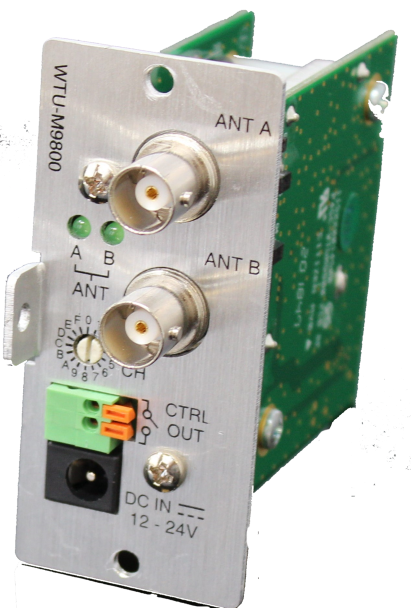 The WTU-M9800 tuner may be used in any TOA mixer that accepts a 900 series module. Each module is a diversity UHF receiver with 16 user selectable frequencies. Up to two modules may be used in a frame without the use of an external power supply. A wide range of M band transmitters is available, as all 5000 series microphones and belt packs are compatible with WTU-M9800. Two whip antennas on standard BNC connectors are included. Phantom power on the antenna inputs supports the use of TOA's YW-4500 Q powered remote antennas.
Product Features
PLL synthesizer controlled double super heterodyne diversity tuner
Use with any 5000 series hand-held or belt-pack transmitter
Use up to two tuners in 900 or 9000 seriers without any external power ssupply
Up to 16 channels
Save on installation costs, rack space, and shelf space
BNC connectors for local antennas or remote mounted antennas
More Information
Click on a checkbox to add to batch download.
Manuals
CAD & Specifications
Images
Additional Information